Grant Abbott's Family SMSF Adviser Course
4 June, 2018 @ 8:30 am

-

7 June, 2018 @ 3:00 pm
You are invited to Australia's first ever Family SMSF Adviser Course with the Family SMSF Pioneer Grant Abbott
"The SMSF industry is at a turning point.  It is 25 years old, travelled beyond its youth and is now ready to start a family, a Family SMSF of course.  With Family SMSFs, SMSFs will never be the same again – just like the superannuation industry was not the same when SMSFs were first introduced.  For those early movers who grasp the possibility and take the opportunity to start talking to clients as families not numbers, an exciting new and challenging world awaits. And I am going to work with those early movers, the advisers who can see the opportunity, to build a strong, all-encompassing Family SMSF business."        

1. What is a Family SMSF?
A Family SMSF is a special type of SMSF that enables families to transfer, contribute, protect, build, distribute and share their family and superannuation wealth – for generations to come.  Lying alongside a Family SMSF Proceeds Trust("FSPT") for estate planning purposes as well as a Family Trust for small business and potential excess TBA super assets, they are an integral part of the Family Financial Group ("FFG").
2. Who is a Family SMSF adviser?
A Family SMSF adviser deals with the broader consequences of the FFG from a viewpoint of what is best for the family.  If a family wants one child to be looked after during life via a Family Trust and the other children to have equivalent financial benefits on death for their families, directly via a Family SMSF or indirectly through a FSPT, then so be it.  If a child is off work from cancer then the Family SMSF and Family Trust kick into gear to ensure they and their family are not left wanting.   The Family SMSF Adviser it about "family first".  For the adviser this brings a lot of benefits including being the family's "Trusted Adviser" or "consigliere".
Warning:  Don't try and talk to your client about Family SMSFs without knowing the deep ins and outs of them.  That fails the rule of being a "Trusted Adviser" right upfront.  Learn first, practice second, perfect third and then really build a successful Family SMSF advising business.
3. The Government brings Family SMSFs into the light
The expansion by the Government of SMSF membership from four to six members is a watershed moment in SMSF history.  To date the large majority of SMSFs have been set up for two persons with a staggering 115,000 SMSFs only single member super funds.  These funds now known as "common or average SMSFs" have very basic strategy and have been primarily built for investment purposes and certainly not to look after a family's welfare, financially and emotionally.
That is now about to change.  Common SMSFs will begin to be upgraded to Family SMSFs by Family SMSF advisers and new funds coming on board will start their life as Family SMSFs.  Importantly a Family SMSF is NOT a common SMSF where price is often the guiding light.  The north star for Family SMSFs is "the family" first and foremost.
4. How is Family SMSF Advising different to SMSF Advising?
"In 1998 I saw the light with SMSFs and went all in on them casting aside my tax and general superannuation practice.  My experience, having dealt with more than 75,000 SMSF Trustees over my career, shows that the Family SMSF is going to be so much more powerful, more energising to Trustees and Members than the common SMSF.  I am going all in on Family SMSFs and invite you to join me."  Grant Abbott, Family SMSF Pioneer

As with any new concept, strategy or idea it is not apparent to the general population what, how or when the new idea should be used, applied or implemented.  For accountants, financial planners and even SMSF specialists, the Family SMSF is an enigma.   It might be easy to consider and dismiss putting extra members from different generations into a fund as "too hard" from an administration perspective, but Family SMSFs are driven by important things like being there for the family, not simply bookwork – the tail does not wag the dog. 
To be honest if you don't know how to build and complete Family SMSF strategies for your client families, then you and your clients are really missing out on the next SMFs revolution.
But don't take it from me – your clients love it when they see it for the first time.  Since the 2018 Budget Grant has presented to more than 250 SMSF Trustees on Family SMSFs and has seen the keenness for SMSF Trustees to learn more, see which family members can and cannot fit in and upgrade their existing funds to Family SMSFs.  The problem is they want to do it now but the six member rule does not start until 1 July 2019. The choice – a transition to a four member Family SMSF. 
At the four day Family SMSF Adviser course participants will learn the ten benefits of a Family SMSF over a common SMSF, how to show the client the differences, how to choose which family members are best suited to a Family SMSF and the importance of six monthly Family SMSF strategy and Board meetings to the success of a Family SMSF.
Disclaimer:  Family SMSFs are not for every accountant, financial planner or even SMSF specialist adviser.  It is a different type of advising and requires a change of thinking and more importantly, a new style of relationship with the client. At this time it is only for Early Adopters, those who see themselves taking up new ideas before the rest.  Within five years it will have enough head of steam to become more commonplace and within ten years the norm for all SMSFs.  Those with common SMSFs will be called laggards, as will their advisers.
Here's a test for you, at this stage where are you on the Family SMSF Uptake Chart?
I. The Family SMSF Uptake Chart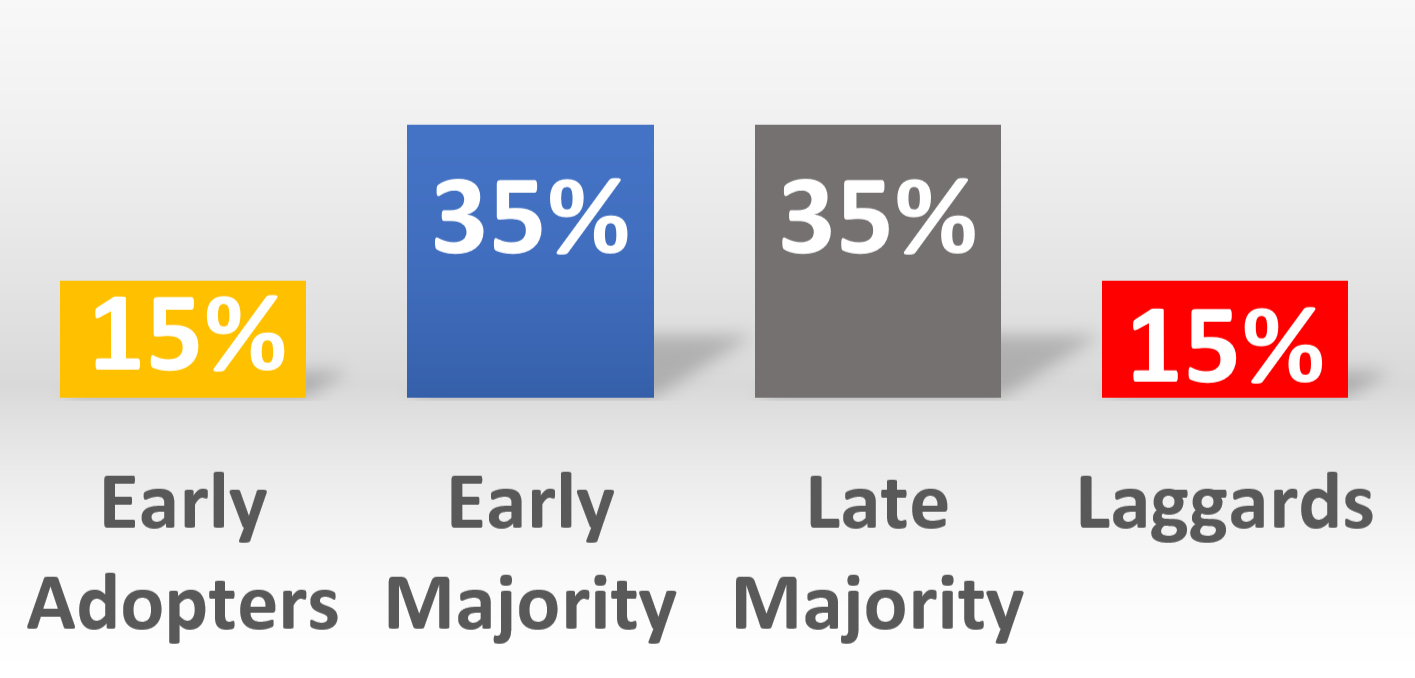 5. I want to be a Family SMSF Adviser what do I do?
The first step is to reskill, retool and rewire your SMSF brain.  If you have an existing qualification such as RG146 for providing advice on SMSFs or a specialist SMSF accreditation from the SMSF Association or one of the accounting bodies, then it is a start.  You know your way around the legislation in a broad sense but now comes the fun, reading, relating and building on what you know for multi-member funds.  The best person to help you achieve that in as quick a time as possible – Grant Abbott.  
Grant is the pioneer of Family SMSFs having built Family SMSF strategies from all sides and angles – divorce, dementia, blended families, segregated investment strategies, imputation and tax credit costing, family asset protection, family asset streaming on death, capital and income streaming in Family SMSF unit trusts and the list goes on and on. With all families being different, Family SMSF strategies are built, bespoke for a family, from the ground up.  They don't come in a can and you cannot learn them from the internet or going to 100 SMSF conferences.  You need to get involved, sleeves rolled up with Grant, poring over the laws and building Family SMSF case studies.  So if a client comes to you and says that their granddaughter has been diagnosed with Leukaemia and they want to help out financially, you have the tools and strategy to do that in an instant plus get a tax deduction for it!  A Family SMSF to the family's rescue.
Onto the news.  Grant has specifically designed a four day Family SMSF Adviser course with Kerry Hides Pearson, from RTO Terra Cordis.  Grant and Kerry were both involved in developing the skills competency standards for providing SMSF advice in 2004 under ASIC's RG146 guideline and also were the drafters of the SMSF specialist adviser standards for the SMSF Professionals Association.  They have designed and drafted relevant skills competency standards for Family SMSF advisers and are currently in discussions with ASQA (Australian Skills Quality Authority) to have these recognised and accredited to a standard equivalent to a Masters or post-graduate degree.
The upcoming four day Family SMSF advising course in Sydney from 4-7 June will provide the requisite skills and training to enable a financial services professional to go beyond SMSF advice and become a Family SMSF Adviser.  If you can't make it to this you can put your name down on a waiting list for future conferences.  Please contact us at support@ilovesmsf.com to declare your intentions to become a Family SMSF adviser.
6. What will I learn?
Grant and Kerry have taken the important decision that Family SMSF advising is not a simple learning process.  In order to be at the standard of a Family SMSF Adviser it is crucial to be able to:
i) assess the family, the various family member's weaknesses and strengths in a range of areas, determine their health and current financial welfare status;
ii) discover and understand where they are now, structure-wise with common SMSFs, retail or industry super funds plus any companies or discretionary trusts;
iii) determine what is important to the key family members, particularly those invited into the Family SMSF, in terms of retirement, death and family.  Determine who is to become a Family SMSF member and where their current super monies are now.  In addition if the Family SMSF is to have limited bloodline membership, determine the assessment of that bloodline and any exceptions to the rule;
iv) elicit the various family member's cash flow needs now and into the future and where that is best sourced tax and access-wise;
v) review and understand the various member's desires in terms of their estate planning and how this accords with any estate planning in place;
vi) research the laws, rebuild the family financial structure with a deep dive into the legal constructs with an eye on i) to v) above;
vii) prepare a Family SMSF and Family Group blueprint for discussion purposes;
viii) following sign off from the family develop a Statement of Advice, where required detailing the Family SMSF strategy to be implemented, the steps to implementation and also the disclaimer that the plan needs updating when there is a change in the health, welfare, relationship or financial status of the Family.
ix) implement the initial stages of the Family SMSF plan following client payment;
x) set the time and stage for the build of a dementia, health, incapacity and estate plan within the Family SMSF for each and every member.
A detailed agenda, relevant to Family SMSF advising standards is shown below.
7. What training materials are provided?
The foundation for the four day course is Grants "The Guru's Guide to SMSFs" as well as the CCH Superannuation Legislation 2018. On enrolment a copy of "The Guru's Guide to SMSFs" will be forwarded to each participant as well as a link to the Super Laws. 
In addition there are more than 30 videos, an extensive resource library of ATO rulings, case studies and Family SMSF client presentations for participants post the course for perennial access to refresh, enhance and recapture key concepts, ideas, knowledge and strategy from the four day course.
8. Is there CPD available?
 Our RTO partner Kerry Hides Pearson at Terra Cordis is currently completing the application for CPD with the SMSF Association and also the FPA.  The relevant accounting bodies rely on a self-assessment of CPD. 
Terra Cordis is expecting the receipt of 30 CPD points for the four day course and participants will be issued with relevant certificates with accompanying CPD at the end of the course.
9. Family SMSF Adviser Course Agenda
The timetable for the four days and the broader training plan is as follows:
Day One: Monday 4 June 2017
8.30am – 10.30am:  The SMSF Industry and the Ten Benefits of a Family SMSF

A review of the history of the industry, statistics, the range of laws that govern SMSFs, the competency standards for SMSF advisers, the role of the ATO, the Trustee, the Member, the Auditor and why SMSF specialists only should advise SMSF members and Trustees.  Introduction to the Five Part SMSF Compliance Model.  How the laws for Family SMSFs differ from common SMSF laws and how to spot the need for a Family SMSF from a common SMSF.
11am – 1pm: The Corporations Act – SMSFs and Family SMSFs
Review of the standards for PDS, Statement of Advice and who can and cannot advise on SMSFs and why lawyers and accountants are not exempt.  Understanding the Australian Financial Compensation Authority laws and how to file a claim on behalf of a client from previous poor investment or strategy advice.  How to deal with multi-member Family SMSFs from a Corporations Act perspective.
2pm- 4pm: Conducting a SMSF client interview and going one step further for Family SMSFs

Identifying and knowing how to separate questions between Trustee and Member and focusing on specific SMSF financial products.  Limiting advice exposure and discussing fees for strategies performed with the client.  Putting the client on record under the SMSF laws.  Family SMSFs takes this to the next level by determining what is important to various family members across a range of key issues such as retirement, death, dementia and even career and business, strangely enough.
Day Two: Tuesday 5 June 2017
8.30am – 10.30am:  The Key Requirements for a SMSF and Family SMSF

What is a non-regulated SMSF and how it is an adviser's nightmare and why most SMSFs don't meet the standards of section 19 of SISA.  The core requirements of a SMSF, what is an Australian SMSF, a foreign SMSF and ATO and legal requirements for both.  Using an EPOA  for residency, building funds for overseas residents and what happens on death, divorce and dementia.  Key strategic voting, membership and replacement criteria for Family SMSFs.
11am – 1pm: Building the Ultimate Blueprint and Foundation for a SMSF and Family SMSF
 The trust deed and documentary requirements are the start and the end of a great SMSF, strategy and for that matter are the basis of any evidentiary proof in Court or AFCA. Grant will review two trust deeds to impart this skill on participants as required under the competency standards.  Participants to build legally valid BDBNs and compare non-valid BDBNs as per cases.  We will also compare a typical SMSF trust deed and set of rules with a Family SMSF deed.
2pm – 4pm: Penalties, compensation, legal suits and criminal prosecution 
Consideration of the Commonwealth Crimes Act, criminal actions under SISA, strict liability under SISA to recover losses and damages and use of AFCA for SMSF client compensation.  Protection from actions and how to commence actions for clients against other advisers and lawyers.
Day Three: Wednesday 6 June 2017
8.30am – 10.30am:  Contributions into a SMSF plus Reserves

Cash, property, in-specie and deemed.  Review of the Commissioner's ruling, the legislation, excess concessional and non-concessional, deductibility and taxation advantages and consequences of exceeding the concessional contribution caps.  Analysis of the Reserving rules and ATO guidelines plus the various types of SMSF reserves.  A look at specialist Family SMSF reserves including Funeral Reserves and Family Defined Allocation Reserves.
11am – 1pm: SISA Investment rules and Borrowing

Consideration of the law and ATO rulings in relation to LRBAs, in-house assets, acquiring a related party asset, arm's length rules, providing finance to related parties plus LRBAs and the ATO guidelines and rulings on LRBAS and safe harbour guidelines.  Case studies bringing all the rules together.  For multi-member Family SMSFs with different generations, the use of segregated investment strategies for separate members and even separate superannuation interests.
2pm – 4pm: The Taxation of a SMSF and Family SMSF Strategies

A detailed review of legislation and consideration of the taxation of a foreign super fund, a non-complying fund, a fund that does not meet section 19 because of individual trustees and paying lump sums, the taxation of contributions, exempt income, the death benefit bonus and the Pension Transfer Balance provisions of the ITAA 97.  In addition the switching and payment for imputation credits and other offsets within the fund as well as lending between superannuation interests.
Day Four: Thursday 7 June 
8.30am – 10.30am: Preservation and Paying out Benefits plus Lump Sums and Pensions
A look at the SIS Regulations and consideration of retirement, temporary incapacity, permanent disability, death, terminal illness and paying out benefits on termination of employment.  The types of benefits that may be paid in each case including salary continuance, lump sum and the range of Pensions that a Trustee of a SMSF may pay and the conditions for each.   A look the important Retirement Phase ncome Stream Superannuation Interest, an Income Stream Superannuation Interest and a Lump Sum Superannuation Interest and a Reserve Superannuation Interest.
11am – 1pm: Family SMSF Estate Planning
A review of the laws around SMSF and Family SMSF estate planning, why it differs to ordinary estate planning, ATO guidelines, how to build an effective BDBN, lump sums and in-specie lump sum death benefits, difference between a reversionary pension and auto-reversionary pension, child and grandchild pensions, taking action against lawyers and accountants for providing poor or no SMSF estate planning advice and participants to build a SMSF Will for a client case study.  Plus a review of the new Family SMSF Proceeds Trust.
2pm-4pm: How to Build a Successful Family SMSF Advice Business
A review of the key compliance requirements for a Family SMSF advice business including skills training and client awareness, education and SMSF knowledge.   The use of limiting disclaimers, putting other advisers on notice, how to outsource under the laws, what to charge for more than 50 specific Family SMSF strategies and becoming a lifetime trusted adviser.
Assessment:
Assessment will be conducted by Grant Abbott and Kerry Hides-Pearson throughout the course and case study responses, interview skills, analysis of core issues and knowledge of the law and application of the law.  An on-line assessment is to be completed within two weeks of the completion of the course.
10. Summary of the Mandatory Skills Requirements for Providing Advice on SMSFs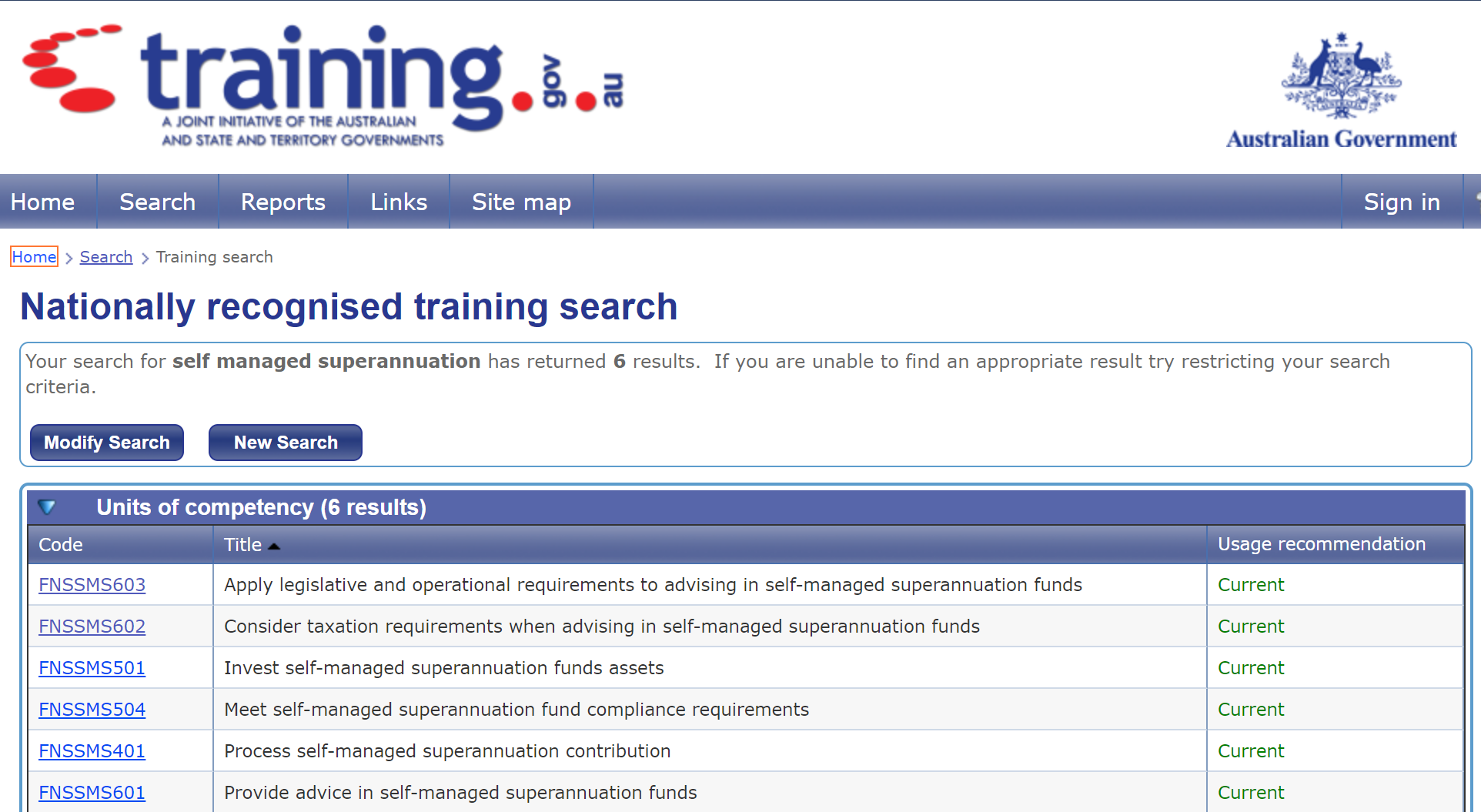 10. Wrap Up
Family SMSF advice is currently in the Early Adoption phase and will be for the next five years.  Participants from the four day Family SMSF Adviser course will meet the skills competency standards for providind SMSF advice but also the new skills competency standards for providing Family SMSF advice.
Grant, I Love SMSF and Terra Cordis look forward to welcoming you to the Four Day SMSF Specialist Adviser Course.